Deleted member 1164207
Guest
Okay everyone, hello!
First off, i want stuna to know that he can still refund me! I will drop this as soon as he does!
I came here in search of a bot that could create pornhub accounts, and use those accounts to like and favorite my Pornhub videos!
I ordered three things from Stuna of Stunabots.com who claims he can make custom bots.
He delivered none of these, and even the one thing he did deliver I was unable to
1. Account Creator For Pornhub
2. A bot that can sign in to made accounts and like and favorite my pornhub videos.
3. Something that can send traffic to my videos successfully!!!!
Here is a screenshot of proof: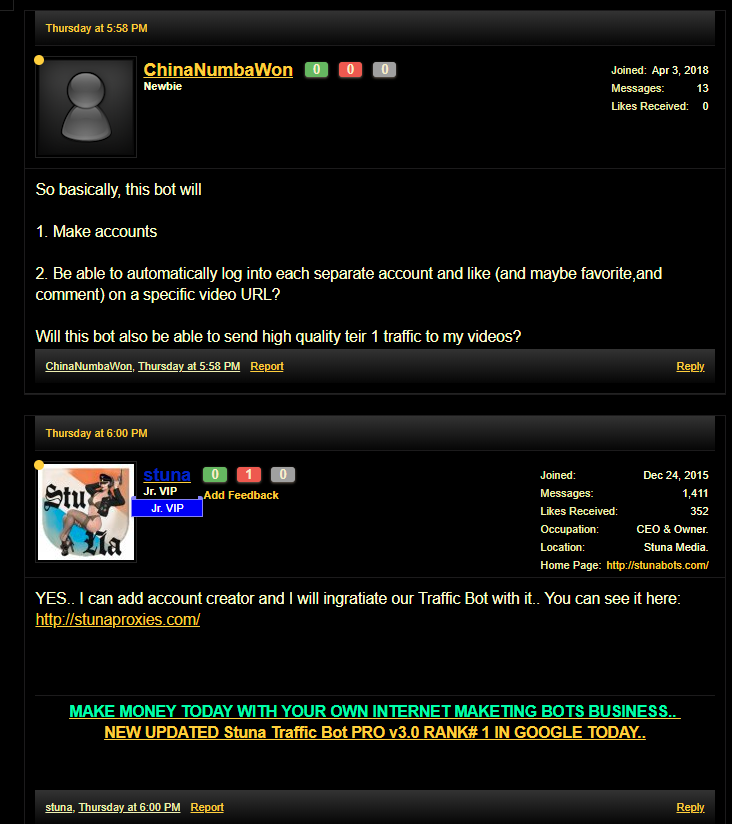 I asked and asked and asked about using paypal ,but he claimed he was having problems with it. AND YES STUNA BOTS IS A HE EVEN THOUGH HE CLAIMS TO BE A GIRL. PATHETIC. No wonder he wanted western union.... He knew he was scamming me the entire time
He sent me these screenshots as proof:
That looked good to me, he even sent me a demo of the account creator. The "demo" as he used in his own words here: HE EVEN CLAIMS HE WILL SEND ME THE AUTOMATIC ONE AFTER I SEND THE LAST PAYMENT
The demo he sent me would go to pornhub website, then navigate to the sign up and go through the email, password, and password confirm without typing anything, so it looked like the full version would actually input stuff into this. NOPE. He didn't even send any full version of it when I paid him! Only his traffic bot which he renamed "Pornhub View Like And Favorite Bot"!!!!
Notice how he claimed everything would be Automatic! He later claims here that I must do it all manually. Why the fuck would I want a bot that I would have to manually do all this shit for? See Below. This is NOT what we agreed on.
Now, the part I am most upset about. I could simply purchase pornhub accounts from someone on here for very cheap, which I was not against. So the account creator I was not very upset about... HOWEVER, the liker and favorite thing does not even work. It is literally just a renamed version of his traffic bot to make me think it could ever send Likes and Favorites. Look below!
That error is the main issue, and literally the guy can't even explain to me how to fix that? It seems it would be so easy?
HE THEN TRIES SAYING IM A SCAMMER FOR ASKING FOR MY MONEY BACK
So let's see what I recieved compared to what was promised.
1. NO account creator was included
2. NO WORKING TRAFFIC BOT (I fiddled with this thing for 2 hours, and even asked him for help, which did not help at all. It's almost like he didn't even make it himself as he only refers to the "README" which I have done 60 times.
3. No working bot that can login to an account on it's own, and like or favorite anything automatically.
Honestly, what a joke. I sent the guy $150 with two $10 transaction fees.... and this is how he treats me?
Stuna, if you read this, give me a refund NOW'
Last edited by a moderator: