Joined

May 9, 2010
Messages

3,125
Reaction score

2,957
Hello!

I haven't posted anything in the Instagram section in a long time here on Black Hat World, so I thought I'd share one of my guides with you lovely people as a way to kick-off 2018. I'm sure some of you will find this helpful! This guide might also look familiar to some of you. Normally, I don't release guides like this to the public, but I'll make a special exception today because 2017 has been a great year for Instagram!

The guide starts off with beginner information, but it gets more advanced during the read. This isn't the most "groundbreaking" read, but you might pick up a thing or two if you're already quite familiar with Instagram! Some of the sections are very brief, but I am very thorough in other areas that I feel need more explaining.

Let's have a great 2018 on Instagram!

Cheers!

IGKing​
Hashtags
Hashtags became widely popular on Twitter and are a key component on Instagram as well (and also sparingly on other social media platforms like Facebook). Hashtags are made up of a pound key (#) and a (key)word (e.g., #viral) and are great to get your content organically found by others on the platform.
Instagram uses the hashtags you use with your picture to categorize your post and get it displayed in the respective feed for each hashtag. This will enable any of the 700+ million users that search #newyork, #dubai, #hawai to find your picture under the hashtags you use.
It is important to note that hashtags cannot be composed of dots (.), symbols (!&é) or spaces. Hashtags can; however, be composed of emojis, underscores, lower and uppercase letters and numbers.
Top Posts
Every hashtag that is used on Instagram is categorized under a feed. Compare it to a folder on your computer where you put all the gardening images in a folder labeled "Garden," and another one where all the images you have of cars go in a "Car" folder.
In the example below, you can see the hashtag
#BMW
and its feed (folder). Of course, the more popular a word (hashtag) is to describe something, the more times a hashtag will be used in describing the image. And in extension, the more pictures with such a hashtag will appear in the hashtag's feed.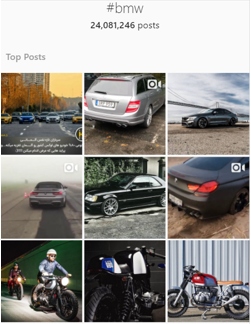 BMW is a popular hashtag with over 28 million posts (both videos and images). But this doesn't necessarily mean that 28 million people used it. This count reflects the pictures posted with this hashtag, not the number of profiles (users) that used it.
Around 2015, Instagram introduced the
Top Posts
section, which displays the most engaged, recent pictures in the hashtag feed. Your picture or video will possibly remain there for several hours, but it will disappear after a while when a new post gains more traction.
The more popular the hashtag is, the more careful a picture is chosen to be temporarily displayed in the Top Posts. Also, the more popular a hashtag is, the faster pictures rotate to allow other users to get exposure.
There is a wide collection of factors that determine whether your picture will make it to the Top Posts, but obviously, hashtags which are more popular will use posts with more engagement (likes, comments, saves, etc.).
Getting your post featured in the Top 9 posts under certain hashtags is an excellent growth method for accounts of all sizes! We will discuss how to get featured in the Top Posts later on in this section.
Most Recent
Even if your image is not classified under the Top Posts of a hashtag, it will ALWAYS be displayed in the most recent section of that hashtag. This is good as people will get to see your post, but where your post might be displayed for a few hours under the Top Posts section, it can disappear in the most recent section in a matter of seconds!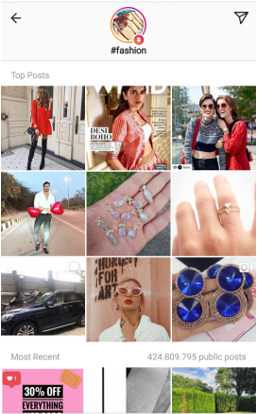 Let's have a look for at a very popular hashtag: #Fashion. This hashtag has (at the time of writing) 424,806,592 posts classified under it. If you post a picture or video and classify it as #fashion, chances are you will never get your post in the Top 9 posts (unless you have a wildly popular or big account). To give you an idea, (at the time of writing) the Top 9 posts are claimed by accounts that are in the following range:
1.)
three accounts with more than 1 million followers
2.)
two accounts with more than 900 thousand followers
3.)
two accounts with more than 200 thousand followers
4.)
two accounts with more than 15 thousand followers (who re-posted pictures from bigger accounts)
The average amount of likes these pictures received are 4000+.
When monitoring this hashtag, we can see that there are hundreds of new posts EVERY SECOND! So even if you appear in the most recent posts under this hashtags, chances are very small that people will see your post and engage with it. (Although, you might get a bunch of fake likes from bot accounts that randomly target the most recent posts of large hashtags.)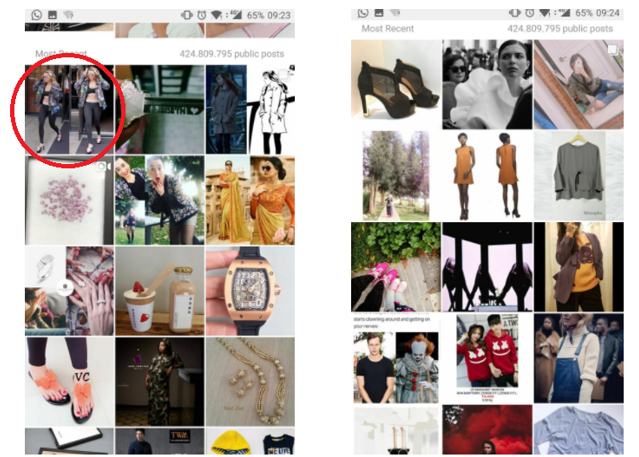 On the top left side we see a picture of Mariah Carey in the most recent posts, seconds later (the right side image) the post isn't even there anymore! So again, chances are very slim that your post will be noticed if you are using hashtags that don't match the popularity or size of your account!
Hashtags and the Explore Page
On Instagram, you can search content, but doing so through the mobile application will also show you the explore feed. A collection of content Instagram thinks you might like, based on the items you liked or commented on with your account (or accounts you follow).
But, you can also search for content through the explore page, more specifically, the search bar on top. People use this search functionality (much like you would use Google Images) to find pictures or videos by using keywords.
If for example, I would want to see images of cars, I could search for specific hashtags (#car, #BMW, #audi, #corvette..), but Instagram will also show me more hashtags that I can use to find more related content.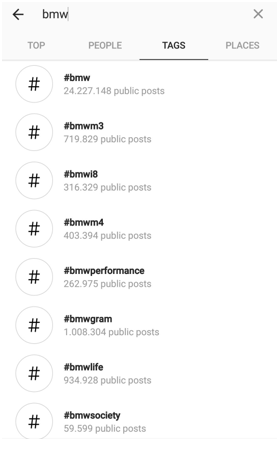 Instagram wants us to find content we enjoy and aids our search by suggesting relevant hashtags. This is why, when using hashtags, your engagement increases. People are curious and constantly on the look for content, and your posts will be available for them once they begin searching.
On top of showing you suggested hashtags, Instagram will also show you how popular they are and how many posts use them. To the left, you can see an example when I'm searching for BMW.
You can see that the hashtag #bmw is being used 24,227,148 times, while the hashtag #bmwm4 and #bmwsociety are being used 403,934 and 59,599 times respectively.
You can be assured that the more popular a hashtag is, the more content will be posted with that specific hashtag. Instagram is a never-ending content-machine. Remember, there are more than 400 million people active daily, uploading more than 95 million posts a day. There will always be content and an audience!
Hashtags Limitations
By now you should've grasped the concept that hashtags are a key component to organic exposure on Instagram. So adding as many hashtags as possible will give you unlimited exposure and engagement, right?
Quite obviously, Instagram doesn't allow you to use an unlimited amount of hashtags in each post. They limit the use of hashtags, so no one abuses them. By doing so, Instagram gives every content creator an equal chance to be visible to new viewers (and audiences).
Self-Imposed Limitations
Instagram has limited the use of hashtags to maximum 30 hashtags per post. That includes all hashtags posted by you, regardless of their location (caption, first comment or 50 comments down).
When you try to post more than 30 hashtags for one post you will possibly receive any of these errors:
1.)
Your post will be uploaded without a caption if you post 31 or more hashtags in the caption.
2.)
When you try to post additional hashtags (so making the total higher than 30) in the caption of your post after it was uploaded will give you the message:
There was an error saving your changes. Please try again.
3.)
When you try to post more hashtags in the comments after a total of 30 has been reached, Instagram will show you a red exclamation mark in the comment section. The error will read:
Comment can't be placed. Tap to try it again.
External limitations
Hashtags can also be added to your posts through the comments. You can do this yourself, but other people can also use hashtags. However, they do NOT provide extra exposure for you. They don't appear in the hashtag feed either.
Hashtag Abuse
Instagram will occasionally limit the Most Recent list of a hashtag when they suspect that the hashtag in question is being targeted by spam or explicit content. They do this to fix the "glitch."
Hashtag Locks (or Banning)
In the past, there have a been a few incidents where certain hashtags were overrun with explicit content (for instance with pornography). When this gets out of hands, Instagram is cored to completely lock down the hashtag, and thus banning it, until the incident gets resolved.
The downside of using any (potentially) banned hashtag in the caption of your post is that
all the hashtags used for that post will be disabled!
Hashtag Blacklists
Much like any other platform, Instagram also deploys a form of censorship, blacklisting certain hashtags. Instagram is very careful (as they are in the public eye) and will blacklist hashtags with keywords related to nudity, violence, illegal substances, racial issues, etc.
Here's an example of a limited hashtag: #blondegirls. The most recent posts are not shown anymore because users frequently flagged them.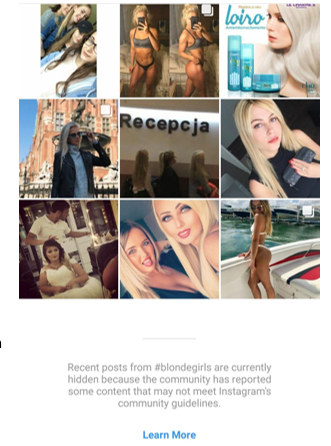 How many hashtags should you use?
As I have mentioned before, the use of hashtags is limited to 30 per post (either in the caption or comments). A question that appears regularly is: "How many hashtags should I be using?"
Although this is a controversial subject, please keep in mind that hashtags are very useful to increase (organic) exposure and will add additional streams of traffic to your post. Meaning: every hashtag you add, opens a lane for people to come to your content.
I would approach it like this:
Each hashtag used on your content is an opportunity to be found on Instagram. For every hashtag you utilize, you heighten your chances of an increase in engagement, potentially making it to the explore page and getting your content exposed to a massive audience.
Larger exposure = more followers
More followers = more business
More business = more success (and or money)
So, you see: when you use those 30 hashtags correctly, it is a smart thing to do.
Hashtag Categorization:
There is a wide variety of hashtags categorization we can define, but I will limit it to just a few.
1)
Viral hashtags.
These are very popular hashtags, ranging between 100 million and 1 billion posts. Ideally, I would advise you to stay away from these, as they are overused and highly saturated. Reminder: Usually only large accounts will benefit from these hashtags. Some examples: #love #instagood #cute #follow #followme #happy #tagsforlikes
2) Trending hashtags.
Trending hashtags will be live when certain events happen. Like a major sports event (e.g., the Super Bowl), a world event, a disaster, etc. They will be extremely popular, but only temporarily. Examples are: #worldcup, #prayforparis #olympics #neverforget
3) Niche and sub-niche hashtags.
These are the hashtags that target your general (and sub) niche to reach a wider audience. These hashtags will help Instagram classify your account and will get your posts promoted to the proper audience. Examples of niche hashtags are: #luxury, #travel, #food, #fitness, #motivation, #photography, #art
You can drill down to sub-niche hashtags to define your target audience: #luxuryhomes, #motivationalquotes, #painting, #weightlossjourney
4)
Location hashtags.
Location hashtags can be used to tag your posts with a certain location. This can be a country (#Spain), a city (#LosAngeles) or even more specific (#Broadway).
They are very useful, especially if you want to find people to connect with your country or region.
5)
Branded hashtags.
You can also use branded hashtags (like #nike, #canon, #apple) to describe a brand you are featuring in your posts. Keep in mind, that sometimes brands will feature people on their page if you use their hashtag!
6) Emotion hashtags.
Emotion hashtags describe an emotion that the user experiences. Humans are visual creatures, and every image will invoke emotions (good or bad). We can use hashtags to describe these emotions. Examples are: #lovefood, #sad, #amazed, #shocked
Hashtag Research
Doing your proper research and selection of hashtags is an important part of your growth strategy. Before we can go down to selecting the hashtags, we will first need to generate a list. Here are a few resources you can use to do so.
Tags4likes
This is one of the most famous hashtag generation resources. Tags4likes build lists of hashtags selected on popularity and broad niche.
You can visit them at
www.tagsforlikes.com
for more information.
HashMe Hashtag Generator
HashMe is a mobile application that will create a list of hashtags based on your a user submitted tag. You can easily copy the top 30 hashtags from the app and use them on Instagram.
This app also
allows you to upload your image
and will scan it to generate a list of hashtags. The image on the right is the result I got when I uploaded a picture of a castle.
You will find this app in the App Store or Google Play store.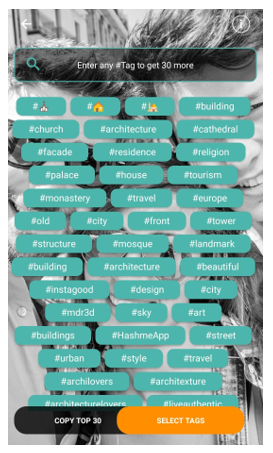 Hashtagify Me
Hashtagify Me is by far the most done-for-you analytical hashtag research website I have come by. This site will allow you to enter a keyword hashtag, (for instance #travel) and it will generate related tags. Under each tag, you can then see its popularity, correlation to the tag you entered and their trends. Although they classify themselves as a Twitter tool, it also works for Instagram.
www.hashtagify.me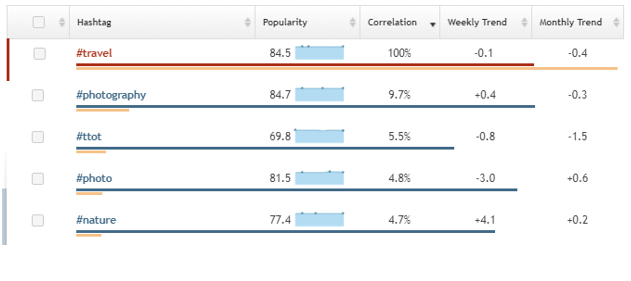 Search Page
With all the external tools available (the above is just a small selection) we would tend to forget that Instagram itself helps you to find related hashtags for your picture.
Although it's not the easiest and efficient way, it still provides a ton of value.
If you search for a specific hashtag on the search page, you will see a list of suggested hashtags and their popularity. Here's an example of the #travel hashtag.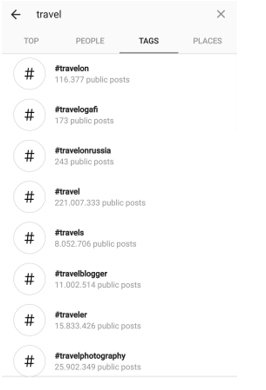 Related Hashtags
If you continue on specific hashtags (e.g., #travel) and go to the feed Instagram will display a top bar with related hashtags. This way you can easily navigate to other hashtags and watch that feed. Of course, you can also further research those and see more related hashtags and their size.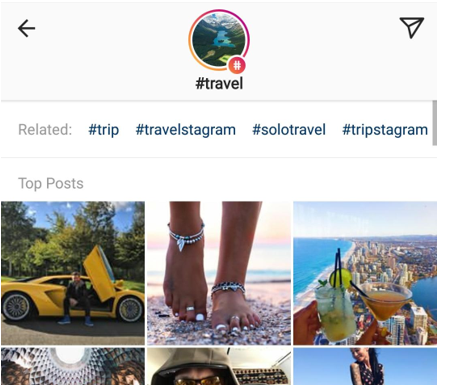 Even More Research
There are unlimited ways to do even more research concerning keywords or hashtags. Another easy way is to spy on your direct competitors. Which hashtags are they using? How are they using them? This will provide valuable insight. I almost always check my competition to see what they're doing before I make any important decisions on my account!
General Hashtag Strategy
So, we have found a way to generate a huge list of hashtags, but without properly identifying them and creating a strategy to use them, that list won't bring you much success.
Our goal in this section is to give you some advice on which hashtags best suit you, your goals and your account.
There are hashtags which should be applied to
every account
, regardless of the size of your account and your niche.
You should always focus on these tags first (in order of importance):
1) Niche related hashtags (e.g., #travel)

2) Sub-niche hashtags (e.g., #backpacker)

3) Emotion hashtags (e.g., #beautifulworld)
If you still don't feel like you have used enough hashtags by applying the above three categories, you can fill up your posts with viral hashtags.
Situation Dependent Hashtag Strategy (Niche, Goal, Size, Content)
If you are looking to accomplish certain goals with your account, you can adapt the general hashtag strategy to be more specific.
For instance, for a local business, it would be advisable to focus on using these hashtags first (in order of importance)
1.) Subniche hashtags (e.g., #audidealer)

2.) Specific location hashtags (e.g., #Berlin)
If you are looking to get sponsorship deals on your account you will want to select more of these:
1.) Use Branded hashtags (e.g., #Nike)

2.) Use brand owned hashtags (e.g., #Justdoit)
You will also want to adapt your strategy based on the size of your account. If you have a small account, focus on using smaller hashtags. If you have a large account, focus on hashtags that are used more. A good rule of thumb is to use hashtags where your account size reflects 10-20% of the hashtags usage. So practically, if you account has 10k followers, you will want to focus on hashtags with 100k-200k posts (10-20%).
Lastly, you can also improve your hashtag use by identifying the (current) content on your account.
If you have an account with bright, colorful images, try selecting more emotion invoking hashtags (e.g., #happy).
For brands that want to run giveaways to increase exposure, you can focus on using contest hashtags (e.g., #giveaway).
Organizing Your Hashtag Research
The tools mentioned above will help you to generate a huge list of hashtags. The next step is to organize them and perform a more thorough selection.
I prefer to do this in an excel (or Google Spreadsheet) and just note the hashtag in one column and the popularity (amount of posts) in another.
Order them based on the popularity (or amount of posts), so it is easy to see how popular each hashtag is. Below, you will find an example of the motivational / entrepreneur niche.
Of course, the longer your list is, the more choice you will have and the more 'sets' you will be able to build (more on this later).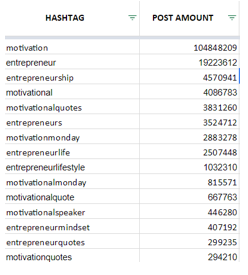 Hashtag Selection
Now that we have cultivated a list of hashtags, we need to select them. It's time to throw out the trash and select the ones that will make our posts appear before user's eyes!
Let's focus on throwing out the trash first. Let's ignore (or delete) the following hashtags:
1.) Inconsistent/nonmatching hashtags with your account.
If you are running a sports boutique, you will want to remove hashtags like #follow4follow, #firstpost, #like, #nice. They provide little to no value to your account and don't reflect the purpose of it.
2.) Explicit hashtags.
Using explicit hashtags (no example needed) will put your account in danger of being limited, banned or closed down. So just stay away from them.
3.) Overrated/viral hashtags.
These are hashtags that have an incredible amount of posts (for example #amazing) and will generate hundreds of new posts per minute. Unless you have an account that can push through it and reach the Top Posts section, I would advise against using them.
Now that we have cleaned out or list, focus on selecting the hashtags that are relevant to:
1.)
Your (sub)niche (e.g., #weightloss, #bracelets, etc).

2.)
The time and location you are posting (e.g., #breakfast, #nightlife, #sunrise, #london, #brooklyn, etc.).

3.)
The hashtag popularity and your account size (as mentioned above) should be considered. Compare your account size to the number of posts under that hashtag. Your account size (in followers) should be 10-20% of the total number of posts.
Going for the Top Posts
Ideally, we'll want to develop a hashtag strategy to land your image in the Top Posts under that hashtag.
What you will want to do is chose hashtags that are matching your account size, and it's engagement rate. Here's an example: #roundtheworld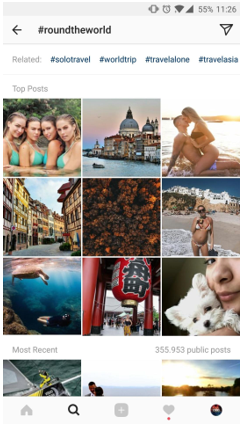 #roundtheworld is obviously a travel-related hashtag (as we can see on the image above).
There are 355,953 posts tagged with this hashtag. So, based on our previous statement accounts that range anywhere between 35k (10%) and 71k followers (20%) will want to use this hashtag.
If we look at the Top Posts under this hashtag, we can see that the number of Likes (engagement) ranges between 405 (least likes) and 4500 (most likes).
Based on this we can confidently say that if your posts average anywhere between 405 and 4500 likes you have a high probability to reach the Top Posts of that hashtag. Of course, the closer you are to the post with the most number of likes, the higher the chance.
Remaining at the Top Posts
Making it to the Top Posts is one thing, but staying there is something completely different. The larger (and thus more popular) a hashtag is, the more competitive the Top Posts section becomes and the shorter your lifespan will be. In large and competitive hashtags you can expect your post to remain in the Top Posts for about 2-8 hours before it gets booted out.
Landing a spot in the Top Posts of smaller hashtags might display your posts for 12-48 hours. If you are using hashtags that are too small, you can remain there for days or even weeks. But because they are so small, the organic reach effect will be minimal.
Making Hashtag Sets
Now that we have done all this research (which can be very time consuming) we will want to use them in posts in an efficient way. If you post regularly and are manually entering the hashtags, you will become bored pretty quickly.
Therefore, I advise you to organize your researched and selected hashtags into sets. This will help you streamline the process, and it will help you to save time when posting!
Since we can only use 30 hashtags per post, my suggestion is to build sets of 20-25 hashtags. In doing this, we can include hashtags that fit in the general theme of our account and save room to use specific hashtags.
For instance, if we have a travel account we will want to use 20-25 (sub)niche hashtags that define our niche (#travel, #backpacker, #roundtheworld, #solotravel). By only using 20-25 hashtags in a set, we still have the option to add location-specific hashtags, and we can tag the city (#london) or country (#mexico) we are visiting.
Here are a few best practices when creating hashtag sets:
1.) Choose hashtags according to your page size

2.) Use those hashtags that reflect your goals and niche

3.) Use hashtags to invoke emotion, inspire or motivate people

4.) Stay away from very large hashtags if you have a small page (like #love)

5.) Ignore irrelevant hashtags

6.) Avoid explicit, limited or banned hashtags at all cost!
Once you have created your set, (or multiple sets) be sure to organize them in excel or copy each set into the notes application on your phone. This will allow you to just copy-paste the set and use them in your post. You will thank me later!
If you want to create multiple sets, here are a few suggestions on how to organize them:
1.) Break them down into different sizes (for example a set of hashtags from 100-200k, 200-500k,500k-1M, etc.).

2.) Use (sub) niche sets (backpacking, luxury travel, solo travel, Europe, American, Asia, etc.).

3.) When applicable you can organize them in calendar themed sets (a set of Mondays posts, Throwback Thursdays, Happy hour Fridays, etc.).

4.) By identifying the content (video, photo, drawing, art, etc.).
Productivity Hack: Text Replacement Keyboard Shortcut
If just dividing it into sets and copy-pasting them from a notes application is not efficient enough, here's a productivity hack that will save you even more time.
Use the text replacement feature of your phone's keyboard.
On your Apple Device go to
Settings > General >Keyboards > Text Replacement
and click on the Plus (+) sign on the top right.

In the Phrase section, add your hashtag set. Next, you will have to choose a
Shortcut.
I'd suggest using something that will help you identify the tags you entered. For example, #Europetravels. You can also use generic names (set1, set2) but in the long term, it will be a pain to remember all of them.
Once you have entered the phrase and shortcut click
save
.
You can then use this shortcut (#entrepreneur) when you are preparing your post on Instagram. Typing #entrepreneur will prompt your device to want to replace it with the Phrase you have entered.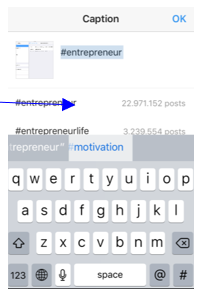 Following a Hashtag
Following a hashtag was made super simple (as we are used to on Instagram). To follow a hashtag, you just go to the search page, type in a keyword (e.g. travel), and select the tags tab. Choose the hashtag you are interested in and go to its page.
There you will have the option to follow a hashtag. As you can see here with the #travel hashtag.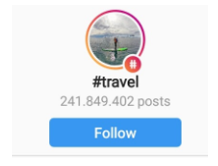 Making the Feed More Engaging
As a frequent user of Instagram, you are used to seeing posts in your feed by people you engage with the most. Back in the day, your Instagram feed was chronologically displayed, but now the people who we engage with most appear in our feeds first.
Following hashtags is a way to see curated content aside from your normal Instagram feed. This appears to be an attempt (in addition to the explore tab) to expose users to more content that they might be interested in.
The posts from the hashtags you decide to follow will appear very naturally in your feed. There is only a slight difference to the part where you would normally see the profile name. You are now seeing the hashtag + the posters name.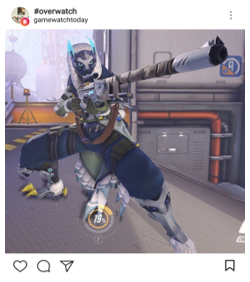 The guy behind the change, by the way, is Matthew Ogle, who created the "discover weekly" section for Spotify. Following hashtags on Instagram is basically what Discover Weekly is on Spotify. An effort for Instagram to show you new, fresh content, therefore keeping you inside the application longer. More time on Instagram = more money for Instagram.
Training the Algorithm
In a recent interview, Mike Krieger (Instagram CTO) called the feed a user-curated view into the world of Instagram. So following hashtags fits nicely within this line of thought.
Instagram has a built-in mechanism to determine which posts under a certain hashtag will make it into your feed. They are looking at both the posting side and the consumption side of images and videos. This means that they have the data about your posts like the tap-through rate, follow-through rate, and scroll-through rate (and undoubtedly, many, many more data points). Based on this data, they can start evaluating your post when they make it into someone's feed and determine if your post was a "bad insertion". They might even down-rank it completely (meaning that it won't show up in their feed anymore, and in extent will probably not make it into other people's feed anymore). It's not a far stretch to imagine that if they classify your posts as a "bad insertion" frequently, that your engagement will get hammered completely.
However, the posts you are shown are not completely determined by Instagram's Algorithm alone. You can also contribute to which content you would like to see under which hashtag. This is an option that is also present on the explore tab. In the explore tab (which is completely based on your interactions with posts and accounts, while hashtags are more interest based) you can select the option "See Fewer Posts Like This". However, with hashtags, your only option is "Don't Show for This Hashtag".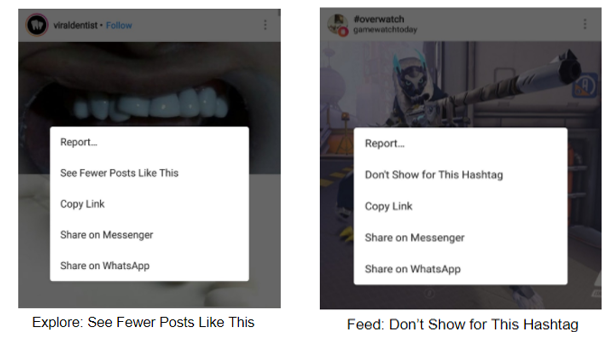 2018 Updates to Top Posts
Any active browser of hashtags will have noticed changes to the Top Posts under hashtags. Where we used to see posts with (tens) of thousands of likes and comments under a certain hashtag (for example #fashion) we are now seeing a lot of older posts that have more modest amounts of engagement (think 500 likes).
This is a byproduct of the follow hashtags feature. Since we are curating (training) hashtags to show content you would like in your feed, Instagram is doing the same for the Top Posts under that hashtag. They are personalizing them, so it fits your interest more.
This interest of course, is based on:
1.) What you train the algorithm to show you in the feed
2.) What kind of posts you engage with on your account
What this also means is that every account will (probably) see a different Top Posts section. While this is a negative hit for people who have used Top Posts as a growth tactic, it also makes adding correct and image appropriate hashtags more important than ever. And of course, your account will have to be correctly niched and indexed by the algorithm.
If you want to check the regular Top Posts under a hashtag, you can use an account that has totally no connection to that niche (a new, fresh account would work best). For example, using a Overwatch account to check an interior design hashtag. Or you can use an incognito browser (so that there are no cookies and no connected account) and visit the hashtags page directly:
https://instagram.com/explore/tags/hashtag
.
Here is an example:
As you can see from our example, there are only 2 posts from the regular Top Posts that made it into the personalized Top Posts. There is a third one with the stick figures, but it's posted by a totally different account than the two images in the regular Top Posts.
TL;DR: Hashtags are important.
Let me know what you guys think! Feel free to leave a comment below. I'd love to have an open discussion on hashtags!
Thank you!
IGKing
Last edited by a moderator: