A complete guide to launch your own WordPress website in 2019!!
This tutorial guides you how you can start/create your own website in easy steps. This tutorial is completely intended for the newbie's and beginner who wants to start their own website/s and they don't know where to start from. Of course, you need to have a working internet connection and since you are reading this article you can now jump straight to the information.
Registering a domain name
This is the very first step you need to do before you do anything else. This will be the name for your website and make sure you are not allowed to change the name.
If you want to start your website with name "itsmysite.com", presume that this name will be constant and cannot be changed. So, decide a better name that suits your own website.
There are a many domain service providing companies that can offer you domain name registration for one to multiple years. Some of them you can like and register are as below:
Godaddy.com
Namecheap.com
Name.com
Dynadot.com
Moniker.com
You can also check if they have something to offer you to pay off in terms of annum or multiple years' price.
Remember! You have just registered the website name. It is not going to build up a website. For an example it is like someone name. My name is Manish but many people have the same name, it makes no different.
For developing a website you need to put some file and get it designed. Don't scare because it is no hard at all to create a simple website. All you need a hosting where you can put the file to your website name.
Finding a webhost for you
Having a hosting means you are buying some space from a server that will help your website be visible to others. You already have registered the website name for you. Now, in order to put files on your website you have to have a server that allows your websites file to be accessible to others. Hosting in other meaning is a computer that is established online as a server, so anyone can access any file at any time.
You can Google for finding the one for you. However, buying a shared hosting plan will be good for you.
What to do with your domain name?
You have already purchased the domain name. Now, open your domain service provider account and log in with your credentials. Upon successful login, click on your domain name and changed the Nameserver 1, and Nameserver2 to the new nameserver given by your hosting company through the e-mail. Then hit enter.
This will change the domain name server after a propagation process that may take 30 minutes to 4 hours, sometimes can be longer depends on your TLD's and registrar.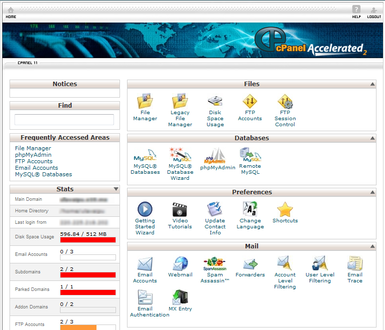 Back to hosting after the timeframe:
Once you have created an account and make the payment, you will have the hosting details to your registered e-mail address provided at the time of registering.
In the detailed mail, you will be provided with the below details, I would like you to know in brief.
Cpanel details:
You will be given Cpanel username and password. Cpanel is an interface to be used to do whatever you want to with your files and also to attach your website to your hosting account.
Cpanel Username & Password:
Cpanel username and password are the credentials to be used to log in to your Cpanel account.
Accessing Cpanel account always is like:
Yourwebsitename.com/Cpanel
Itsmysite.com/cpanel
Upon request, provide username and password and you will be launched the Cpanel interface.
Here, there are lot you can do but let just simply click on add domain.
A set of box will appear where you can provide your website name with username and password to be added.
And you have added you domain successfully!
After successful adding of domain, your website name is on server but nothing will show up. It means you need to get your website designed. You can install the WordPress right here, if you want by providing simple details.
In case, you want it to be designed, you have various options to get your website designed.
Option1:
You can hire a designer/company to do the design for you. You will just need to tell them how you want to see your website to be look like. Also, you just need to allow them Cpanel details.
Option2:
You can purchase a theme and use this on your website. A designer still can help you paying off a few bucks to establish it for you.
Option3:
Use a free theme and get it installed on your website. This could be cost effective when you don't want to invest much on your first website.
You can install any automated script like WordPress, Joomla, etc, since the WordPress is an easy platform and SEO friendly, I will guide you the steps installing WordPress.
How to install WordPress on your website?
Installing WordPress is an easy task. You need to follow the below steps:
1. Login to your hosting account using Cpanel details
2. Go to the website builder's block -> Click on the softaculous -> click on install WordPress -> now, just write the username and password of your own choice following by the e-mail address -> click install script -> Finish!!
OR
You need to click on WordPress tools -> install WordPress -> by providing username and password of your choice following by your e-mail address -> click install script -> Finish!!
Now you have successfully installed the WordPress script. Far this you have found everything so easy, right?
Now all you have to do is to add the theme that is also an easy task, though.
How to login to your WordPress site?
Upon successful installing of scripts you will be e-mailed all necessary details and credentials to login to your website.
Still, I am explaining so it won't be a trouble.
Open this link:
www.itsmysite.com/wp-admin
Or
www.itsmysite.com/wp-login.php
This link will ask you for your username and password. After providing the details, you will be successfully reached to dashboard. This is how every time how you need to login to your newly WordPress based website.
How to add theme to website?
You can install a theme in various ways. There are a lot of options and I am going to describe you all, so you can choose the one you want to work with.
Option 1:
Go to dashboard (login to your website) of your website and install the theme by clicking theme option. Browsing will show you a list of free built themes. You can install the one you find suitable for your website. And you are done with the theme and designing phase of your website.
Option 2:
Purchase a theme and install it to your website.
After purchasing a theme, you will be given the zipped file. After login and reaching to your dashboard, click on the theme option and select the theme you have purchased. After selecting in just few moments, you will have your themes with you on your website dashboard. Click install, this will run your website with new purchased design.
Option 3:
Browsing a free theme and installing it through any FTP client.
First you need to Google for free WordPress theme of your choice. Take your time to find one that you like and suits your website.
I suggest everyone to follow FTP client all the time for any plug-in, theme or uploading any necessary files or folder. Let's first understand how to use FTP client.
How to use FTP client?
First off, you need to download any FTP client. Most are available free; you just need to Google for it. I prefer FireFTP and FileZilla. Search for them in Google and download it.
Open it and you will be prompt for 3 various input.
Server: either you can put the base IP (111.222.33.444) of your hosting provider or write the domain name following with the .FTP
e.g. ftp.itsmysite.com
Username: same user name like you used for Cpanel account
Password: same password like you used for Cpanel account.
By hitting enter you will have the directory list of your hosting.
Left side is files and folder on your computer.
Right side is files and folder on your server.
You need to click on public_html folder
Then click on itsmysite.com folder
Then click on wp-content
Now click on theme
This is where you can put your theme files.
You already have downloaded the free themes that you can browse from the left side of the FTP client software.
Drag and drop to the right side in the theme folder that you already have browsed. Remember for uploading plugins, themes and whatever you want to upload you will always login to FTP client to use it.
After successful uploading of the theme; you need to login to your website and click on the theme section on the right.
You will see your recent upload theme there, simple install it and it is now on your website.
This is how your website is ready and you have given the great look to it.