Joined

Sep 8, 2010
Messages

2,357
Reaction score

815
Website
---- THREAD CLOSED 07/09/2015 ----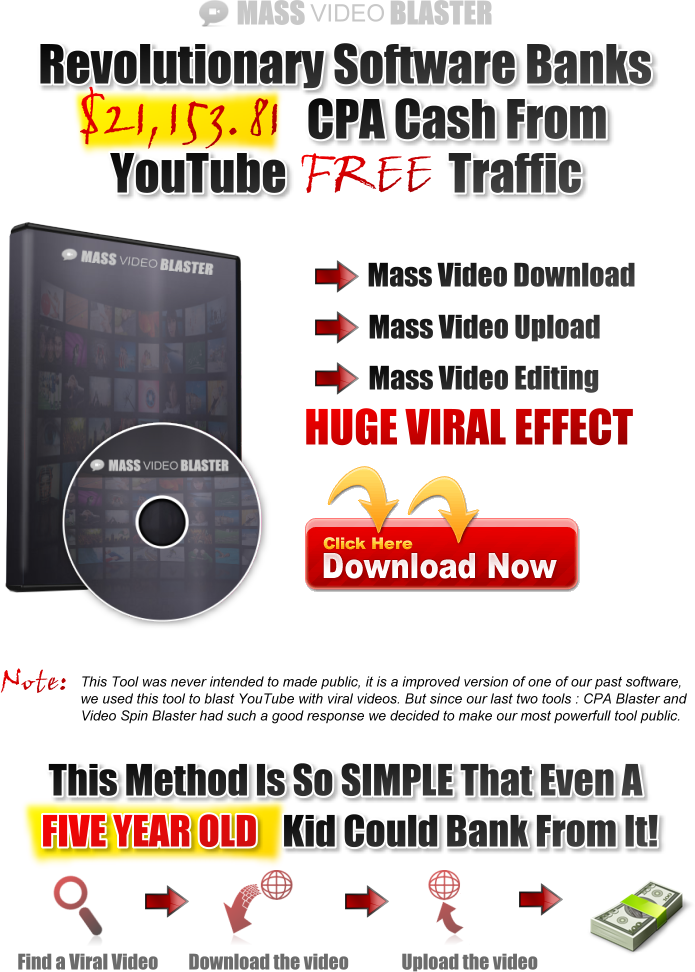 ​
It's that simple! You will let your competitors do all the hard work: finding a good niche , creating a quality video and you will benefit from their work with the click of two buttons!
From 1.000 Views to 200.000 in One Month​
Let's be frank right from the start, it's not easy to get a ton of views on just any old video. That's the bad news. The good news is that good and fresh videos can easily get as many views as 200k/month. Every day there are hundreds of new Viral Videos on the web, just imagine how much money you could make if you owned such videos ( check out our earning screenshot... that much).
Ok, enough dreaming for you , let's take some action and help you earn at least as much as we are.
What if you could easily download all the best performing videos, re-tag them, SEO optimize the descriptions, fine tune everything about them and then easily upload them across multiple accounts?
It's split testing on steroids!!! Watch for best performers, download them, blast them across multiple accounts!!
This method is not new, but it is the method we are using to boost our cpa account. How?! There are so many ways to earn cash when you are viral 24 hours each day , you just redirect your traffic from one money making method to another.
Mass Video Blaster can do hours worth of work...
Literally in MINUTES!
​
What used to take 3-4 hours creating and submitting videos now takes minutes?that?s right,MINUTES
Mass Video Blaster let you download videos from YouTube, whether it?s about the hottest video game to hit the market, some sweet a** music video, the newest diet or weight loss product on the market, latest movie trailers , dosen?t matter.
You can mass download videos, watermark them with your website, and re-upload all of them within a matter of minutes?

Take a look at this Example
​
Back in December I found on YouTube a crazy video with an awesome kid that loves reggae music, maybe you know it
and I decided to upload it on one of my YouTube accounts so i can show it to my friends, guess what 2 days later I was viral
, and I didn't even tried to optimize it, I just download it with an early version of Mass Video Blaster and uploaded it to my account. After one week I started redirecting my traffic from that videos to other videos and direct linking offers. It was really great to see that you can get viral without having any real competition, without spamming, videos removed and other headaches.
In case you didn't understand the power of what I just told you and to make things even clearer
Click On The Video Bellow To See
Mass Video Blaster In Action
​
If you do feel unsure about anything, or a question you had was not answered in the video above, then please, keep reading...
Let's make a recap of what MVB allows you to do:
Supports multiple accounts/campaign
You can use private/public proxies (either pick them one by one or asign individual proxies to accounts)
Mass import videos from text file or Video Marketing Blaster files
Support for tags (ex: #D# will be replaced with original description)
Download Videos from Youtube , Vimeo and Metacafe based on keywords, users, or manually
Download Videos in HD format from YouTube
Multi threading downloading
Add videos from local hard drives
Add Your Own Watermark on the downloaded video
Cut seconds from the start or end of video (random seconds if you want)
Makes each video unique , so you can upload the same video as many times as you want without having to worry about the duplicate filter
Change your titles, tags, and descriptions on the fly
Mass upload all your videos in ONE CLICK!
Auto re-upload all the videos that are removed
Auto list/unlist uploaded videos
Backup system so you are 100% safe
Auto updating system
Add annotations to YouTube videos
And much more?
You decide what works best for you....
Do you know get it why we are calling this Mass Video Blaster?​
Take a look at this video to see what's with all the MASS Buzz
​
MVB Works!! And it works for just about ANYONE...
Here?s just some of the testimonials of those people who got the original...​
A Must Have Tool For Any YouTube Marketer
Hi Everyone,

My name SpK and I'm the creator of YouToobMe. Two weeks ago Vlad and Stoica showed me for the first time Mass Video Blaster, and asked me to give it a test.

I was amazed to see that the system is so simple and with Mass Video Blaster is almost on autopilot. In less then one hour I had 4 videos ranked on top position of YouTube. The next day I was stunned when I saw that 3 videos had over 2000 views and the other one had 600 views and I worked only 5 minutes to achieve that.

Mass Video Blaster is a must have for anyone in the YouTube marketing niche!
SpK - Developer of YouToobMe & ViewIt
I needed only 30 minutes to see the results
I must say that when I first got my beta version of Mass Video Blaster , I was a bit sceptical about this method, but since I knew that CPA Blaster worked pretty good for me I said W%# let's see what is all the buzz about.

I've started searching and uploading some videos with MVB, I was still searching for other videos to upload when it hit me , the first video I've uploaded was already grabbing views. The next day my Facebook fan page got over 1000 fans from that video!

I must say this one of the best tools I ever tried!

Highly Recommended!
David aka Rico Steel - YouTube and Facebook Marketer
I have Reviewed this stuff along with My Tests. First Time ever I am writing review here on *** Though i am here on my from last year or two. So, here are my Honest words for this tool.

Well, I did not try this tool with huge list of accounts and videos. i just done with 60 videos so far. Well, Firstly I Searched and downloaded the hot and recent videos. MVD downloaded all those video without any problem. Then after done with my downloading work. I went ahead and edited them. i tried all and every actions and steps mentioned in video or PDF (MVD PDF manual and Video Tutorial) Like: I edited the title and description of all video instantly by single click. even though later on i also changed the title etc one by one to give more natural look to my videos. After all That, I press the mass upload Button and software go ahead very nicely and start uploading every video one by one. So, I have done all the process without any problem. I did not get any problem in between. Tool is promising and very effective.

Designing and layout of Tool is perfect.
Speed is awesome no problem at all.
Along with an awesome Tool. OP provides Instructional video to use it in proper way and One PDF Manual guide with 2 killing and Hot Spot Methods.

The Thing I love in this tool is its speed coz its very fast and not heavy. SO, when MVD was downloading video from you tube i just minimized the window and did my other work. that's super.

Overall, "Just awesome!" And "No BS," all straight information and step-by-step so anyone can follow this tool. This is a must buy Software for anyone who is in a youtube marketing or in CPA Marketing. If you are newbie and not making enough money at all. Then here you go guys. Either you work with CPA or Click bank or ADsense, you can make hell Amount of money with this tool. This is perfect and 100% complete automated tool for you tube. This tool does what all mentioned in Sale Page.

Yes, Its Revolutionary Software.
Yes, It can Give 1.000 Views to 200.000 in One Month to your video.
Yes, It can generate four figure revenue for you per month if you know how to use it in proper way.
Yes, It does Blast you tube.

If you guys wanna make some serious cash then Go and Grab the copy. And make some Cash Guys.
And Last But not least. Do not underestimate the power of Youtube.

Thanks for such a Great Tool Dude. Really, such a Revolutionary Tool you just crated.
CertifiedExpert - Moderator
What this tool does
Scrapes videos from Youtube. You enter a keyword and it goes about finding and downloading videos other users have posted for that niche. It then uploads these videos with the settings you set. Like Vlad mentions, there are two ways of setting the settings for the videos. You can "Snipe" videos where you go in and put the settings in yourself (like keywords, title, tags) or you can -what I really like- mass upload. You simply use tags for the title and keywords part, but you make the description box have an affiliate URL and then use the Tag tag to put... tags in the description box. It automatically uses the same settings for every video so it is very hassle free.

How this tool helps you
Free traffic! Everyone loves free traffic. You can go the difficult Search Engine Optimization way or use the alternative... Youtube!
Getting ranked on Youtube is a lot easier then on Google. There's no sandbox to worry about or having to constantly write articles everyday. You set it once and you're done with youtube. Youtube is a ZERO COST METHOD! Once you have this tool you will -and I don't use this lightly- DOMINATE Youtube. This is the ONLY youtube tool you need to buy.

Tool Strong Points
Let's face it... It's not much of a YouTube video "sniper". If you want to get a couple videos really high, then YouToob me is a better choice. But that is harder. You need a lot of accounts and you need more work to use that tool. This tool was built for MASS scaling however! Something I have never seen done so well.
This tool helps even the absolute laziest people make money. There is literally two EASY steps you have to do and you are already getting traffic.

This tool is also FAST. It downloads and uploads with multiple threads so it's uploading / downloading 5 videos (or more) at a time instead of just one if you're doing it manually.

This tool is EASY. Watch one 5 minute video and you know how everything works. It is also a step-by-step process.

This tool requires NO WORK. 99% of the time the tool is open, you are just waiting for videos to upload or download.

You can EDIT videos on the fly! A great feature. Instead of having to open Sony Vegas for every video and spending 15 minutes trying to put text on one video, this does it for you. This tool is a little ruff. You won't get A+ videos or anything, but when you're popping out 100's of videos, it really doesn't matter.
Klix - Moderator
Mass Video blaster is amazing. I used to spend at least 10 minutes trying to manually repurpose, re-brand and then upload just one video to my account, but now with MVB it lets me re purpose and upload dozens of videos to multiple YouTube accounts in just a few minutes.

With MVB you can even brand your videos with your own unique ID to drive traffic to your and CPA offer, an affiliate product you might be promoting, or to your own product. And, no kidding, you can literally do it all in a few mouse clicks.

Mass Video Blaster has to be the best kept secret to marketing with videos today. There is no other software like it, and if you haven't got it in your arsenal, you'll be losing out ..big time.

Glen Hooke
http:desperatenichedominator.com
Very good customer service!!This guy stayed up with me on Skype to make sure the software was installed properly.It was an issue which he was able to fix.It was a problem with my computer which he was able to solve.Vlad is very patient and certainly went out of his way for me.He even remotely accessed my computer to find out why my system would not install the program at 3:00 in the morning his time with no complaints.Also insisting he would be happy to refund if it didnt work properly.Thx again Vlad.I will be in touch.
Garymgar - Forum user
This sounds AWESOME!!!
But how much is it going to cost me?​
The price... right now you have a one time chance to grab this powerful software for low, low price! The "insiders" in the CPA Community that we have shown this think e are crazy for selling it this low! We have been told that we should be charging at least $200... but you can get your copy for a limited time, for ...
FinancialInvestment our methods are free all the way up to making 10.832$ each month
TIME Investment you will work no more then 15 minutes each day ,after you will get some experience
Experience the interface and method is easy to use, no complex knowledge needed
If you want to purchase the monthly subscription version
You can do it for only 27$/First Month
Click here to purchase monthly subscription version
*starting with the second month, you will be charged with 47$/month
​
System Requirements
-Windows XP SP 2/Windows Vista/Windows 7
-Microsoft .Net Framework 4.0
-Administrator privileges
To your great success,
Vlad M.
*
No PS's
, Mate... You've got everything you need to either
WIN
... or Whine. You Decide- just
do it Soon!

Disclaimers:
This method has worked great for me and the testing team, but I make no claims or promises as to how much money you will or could make. You are hereby informed to read and put these methods into action at your own risks.
This site and the products and services offered on this site are not associated, affiliated, endorsed, or sponsored by Youtube, nor have they been reviewed tested or certified by Youtube.