Joined

Jul 9, 2013
Messages

414
Reaction score

292
Hey all,
Wanted to start this thread to document my journey using Facebook Ads to drive traffic to affiliate offers, mainly Clickbank products.
A quick about me:
I'm a a college student living in Boston, currently working an in-house marketing position over the summer at a super cool tech company. I've been into IM since I was 15, where I got started promoting gaming offers through YouTube.
I've been doing PPC work freelance for about 2 years now, but only recently had the idea of trying to run affiliate offers with it. I remember reading something that Facebook and AdWords doesn't allow affiliate offers and bans ads that run them. Then I found
mancar's method for running Facebook Ads
for affiliate products, so I decided to give it a try. I'm running a slightly modified version of his method, rather than promoting page posts I'm directly promoting my landing page with an opt-in offer.
The Setup
I've been spending the past few weeks getting everything set up and today was the first day I ran ads! I had some good results but also made some mistakes, which I'll get into in a bit.
But, first off the results!
For day 1, I generated 7 leads (email submits) for $26.98 in ad spend, or a $3.85 CPA
.


You'll notice that the numbers that Facebook is telling me for leads generated is different than the actual amount, which I'll go into shortly. First, the initial campaign setup...
I set up 1 campaign with 3 different ad sets, all identical in targeting except targeting different countries (all tier 1).
Some notes on the ad sets:
- All the ad sets are only targeting
desktop
because I was too lazy to make my landing page mobile friendly (lol). However seeing these results makes me want to give mobile a try, so I'll go about making my landing page responsive tomorrow
- All of the ad sets are using
interest targeting
, with an inclusion hierarchy to further niche down. This is down by clicking 'Narrow Further' in the targeting options.
-
Interest expansion is turned off
, though I might test this very soon.
- I'm
only running ads in the feed
, all other options are turned off. See
screenshot here
. I've seen the best results running ads like this for clients in the past, but we will see how this does for me.
- Each ad set has 9 different ads within them, with 3 image variations and 3 copy variations. The idea here is I'll quickly be able to see what sort of images/messaging performs best for my audience.
Here's a super shitty diagram of the campaign structure if that didn't make sense: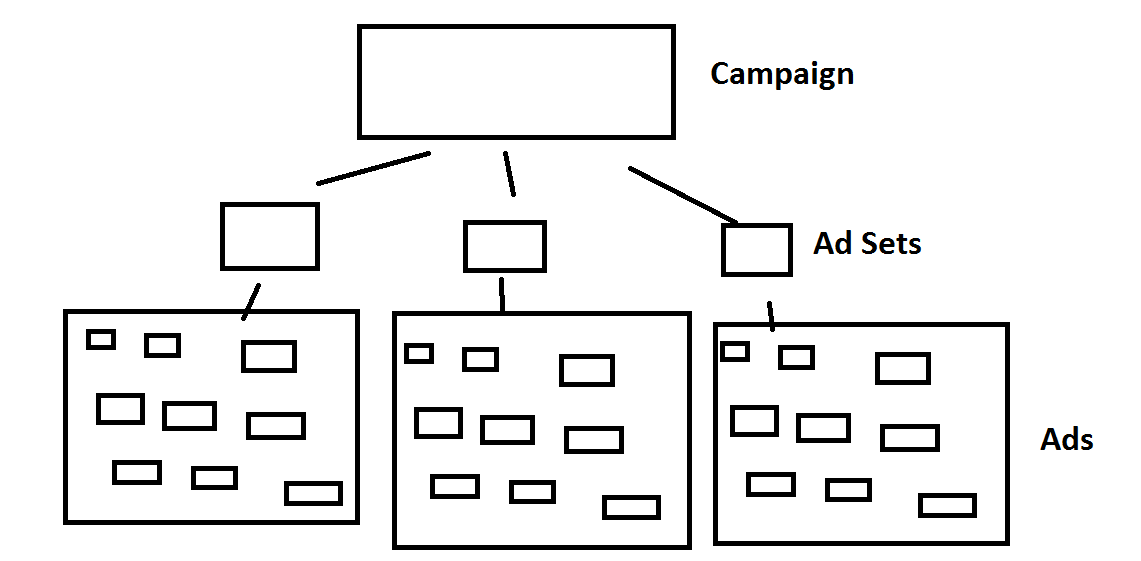 Mistakes/Lessons learned from day 1:
So obviously one of the most important things when running PPC or affiliate campaigns is tracking. I need to know for sure which ad sets or ads are performing best for me so I can double down on those and turn off the ones that aren't (or at least try and optimize them).
As I mentioned earlier, there is a discrepancy between the number of leads that were actually generated and the number Facebook reports. I'd suspected this would be a problem from running client campaigns.
I'm using OptinMonster for my optin form and Drip for my email marketing/autoresponder, and unfortunately the 2 do not integrate nicely. Drip is a featured called Drip Source Tagging, which basically lets me tags each inidividual ad with it's own unique URL. That way, any sign ups that come through that link can be seen in that person's Drip profile.
Unfortunately, when trying to do this using both OptinMonster and Drip none of the Source Tags tracked correctly. All I have to go off of is Facebook inaccurate data. So I ditched OptinMonster and used Drip's crappy form builder + some scrappy CSS skills to hack together my own decent looking form.
This is all on top of the fact that I also had to hack together a way of tracking form submits with the Facebook Pixel, which might not be perfect.
Nonetheless, hopefully this means going forward I'll be able to get more accurate data and make decisions accordingly.
Going forward:
As the title implies, my ultimate goal is $10,000/month. While I know this is far off, I know that I can reach it quickly given the massive power of Facebook Ads/PPC. Once I find a winning ad set/combination, all I have to do is scale it.
I'm going to tracking this journey on this thread as well as my blog https://growthcave.com/
(mods tell me if this isn't allowed). If you're familiar with Glen Allsopp of ViperChill, I want to do what he does with PPC. Basically, using SEO to do all sorts of cool shit and make money from it.
Hopefully you'll join me on journey and will learn a thing or two about Facebook Ads, affiliate marketing, and PPC! I'll try to update this thread at least once a day with something I've learned.
Wish me luck!