Joined

Mar 13, 2014
Messages

410
Reaction score

572
I'm going to quickly skip over introduction, requirements, and all that and try to just get straight to the point.
I won't dive in to the technical to avoid a long guide. If you're interested in learning the nitty gritty, you can Google some of the concepts explained here but if you're somebody who just wants to know how to work with BTC with more privacy in mind, then this is the place for you. Many people like to think BTC with privacy in mind is a criminal mind-set but it's not, some people just don't want their business on a
public ledger
.
Bitcoin isn't all that anonymous believe it or not - all transactions are recorded on a public ledger. In order to anonymize BTC exchange, you must be weary of how it is sourced and how it traverses between wallets so you can establish basic security protocols.
So here's a quick layered step by step to the whole process of working with Bitcoin. You might start somewhere in the middle or right at the very start if you don't have any BTC.
1. Sourcing BTC
2. Mixing BTC
3. Secure Software Wallet
4. Converting to Real Money
So let's look at this quickly step by step.
====================================================================================================================================
#1 - Sourcing Bitcoin
This step would be if you were to want to either buy or receive bitcoin. The key concept to understand here is to use Non-KYC exchanges (Know-Your-Customer). That means you want to use an exchange that does not have associated identification details about you. For example, if you were to register on many Bitcoin wallet platforms, you will be asked about your identification in order for them to verify you so you can use their exchange (Coinbase). This is KYC and is not something you should go for. In fact, do you remember the recent Twitter hack? Well, they made this very rookie mistake.
I wrote a quick thread about it here if you're interested:
https://www.blackhatworld.com/seo/l...s-caught-in-the-dumbest-way-possible.1253398/
So basically you want to go for a Non-KYC exchange when worrying about purchasing BTC. The idea here is to go for Non-KYC P2P exchanges (Peer to Peer) for optimal security where the control of exchange of currency is mostly held responsible between two parties agreeing to perform a transaction. 2 popular examples of this are
HodlHodl
and
Bisq
where they act as light middlemen. Lots more to talk about here but I want to make this guide as short and to the point as possible for my short attention spanners out there so moving on. You can purchase them through Paypal, Payoneer, Bank transfer, Skrill or just about anything depending on whose willing to sell it to you through said mediums on these platforms.
#2 - Mixing BTC
Now let's say you purchase BTC or receive BTC through a personal or business transaction. Well where exactly is your wallet going to be? When receiving BTC, it is not a good idea to expose your receiving addresses of your original wallet that you may reuse later. Instead, you want to use an intermediary wallet before your actual main wallet.
[Buy / Receive BTC] --> [Send to Temporary Wallet & Mix] --> [Send to Actual Main Wallet]
Technically you can add more layers in between if you wanted but it's not needed. So a temporary wallet - okay. But what is this temporary wallet and where is it going to be hosted? You want to go for a wallet like if not exactly like, the
Wasabi Wallet
. As explained on their site "Wasabi is an
open-source, non-custodial, privacy-focused Bitcoin wallet
for Desktop, that implements trustless
CoinJoin
."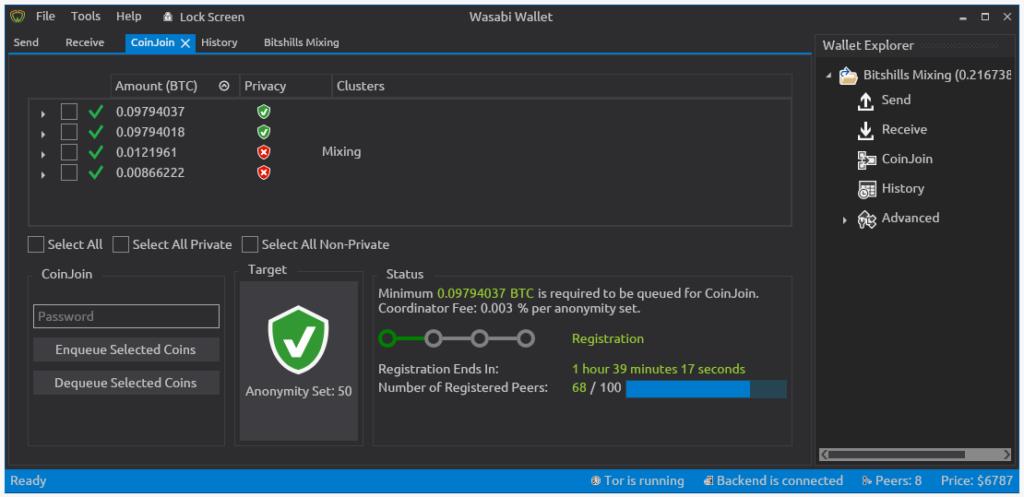 So basically it's a wallet where you can generate random receiving addresses for each transaction, get them in your temporary wasabi wallet, and then perform a coinjoin feature which basically mixes your Bitcoin. Now I don't want to go too in to the technical but the idea is that when you are receiving Bitcoin, it can be tracked through a public ledger. The idea of mixing BTC means your Bitcoin will be tumbled around through other wallets using the service over and over until it's harder to decipher the real source of your BTC. The BTC you will get back will basically be almost unrecognisable from the ones you started with. There are many tutorials on how to use Wasabi (very simple to use) online.
So you've generated a receive address from a wallet such as Wasabi (which utilises Tor), sent it to somebody to get some BTC, mixed it and now you want to send it to your main wallet.
#3 - Secure Software Wallet
Remember when we talked about KYC exchanges? Well just like we talked about not using any KYC services and going for Non-KYC exchanges, you want to go for Non-KYC wallets. The most secure and best way to go about doing this is using a software wallet. A popular and secure one is
Electrum
.
Again, many tutorials on how to use this. The reason for this is because you want to have the least amount of vulnerable points to your identity as possible when it comes to your BTC, so registering on any kind of platform is usually opening yourself up. Having a software wallet allows you not only full control but almost complete privacy to your coins.
If you wanted to take it a step further, you can use an operating system called
Tails
and have your Electrum wallet saved on its persistent memory. Tails by default uses the Tor network for all of the TCP / IP connections including connecting to data stored in the wallet.
"Tails is a portable operating system that protects against surveillance and censorship."
- Source:
https://tails.boum.org/
So now you can simply send the mixed money in your Wasabi wallet over to your Electrum main wallet and now you've got some secure dough.
#4 - Converting to Real Money
Now just as we talked about in step 1, you can use Non-KYC exchanges to actually sell the BTC this time instead of buying.
But what's nice is, your money for the most part is unidentifiable, so you can actually send the money to a KYC BTC Exchange if you like such as CoinBase and sell it through there as well. If you were utterly paranoid about using KYC at all, the Non-KYC P2P exchanges are also open to sell at but for the most part, you can use it in KYC exchanges to sell. Since you've cleaned up after yourself from keeping anybody looking at your digital footprints on a transaction by transaction basis, this leniency is granted.
This should be something everybody who has BTC should know conceptually especially if you're concerned about privacy. I didn't go in to talking too much about the technical nitty gritty or even further more draconian measures simply because they're unneeded unless you're a terrible human desperate for BTC privacy because you're committing immoral acts which I hope nobody here is.
====================================================================================================================================
Tl;DR Summary
If there was a tl;dr for this... I'd say:
- Don't use KYC wallet / exchanges
- Mix your BTC (i.e. Wasabi) before sending to main wallet
- Use software wallet (i.e. Electrum) for receiving mixed coins
I made this guide because I believe everybody has a right to privacy and also for the many people who claim BTC is anonymous - I want to put it out there - it's not so if you're still in that illusion, hopefully this guide will make you rethink how you use it.

If you're interested in Cryptocurrncy that actually had privacy in mind when being developed, Monero is a great example of this.
Last edited by a moderator: